Kair Bath Visor turns bath time into a fun and enjoyable experience, from start to finish. There are a lot of other shampoo shields or water visors on the market, but there's nothing quite like the Kair Bath Visor. Most bath visors are either open-ended like a half circle, or closed-ended like a full circle. Both types have their pros and cons.

Open-ended versions allow the hair on the back of the head to be washed, but
they usually don't securely hug heads with different sizes and shapes, so water, soap or shampoo still make their way into kids' eyes. Closed-ended versions are more secure and tight-fitting for a certain size of head, but they may be too loose for a smaller head or too loose for a bigger head. In other words, they have to fit the wearer's head exactly, or else they won't work effectively. In addition, they also make it difficult to wash the hair on the back of the head.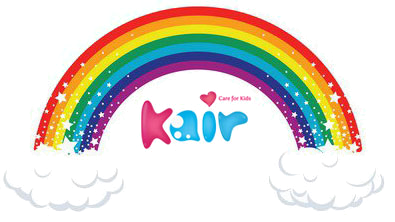 Kair Bath Visor gives you the best of both worlds. Since it is open-ended, it is suitable for all head sizes, and since it uses an air-filled sealing tube, it can also accommodate all head shapes.
The air-filled sealing tube is specially designed to adjust to the shape of the wearer's head in order to make sure that soap, water and shampoo can't pass through, regardless of head size and head shape, while still allowing the hair on the back of the head to be washed.